856-333-3783
Fentanyl Detox Near Philadelphia
Fentanyl can be a hazardous drug not just because of its highly addictive nature but also since it is frequently cut with other illegal drugs. If you develop an addiction to fentanyl, you need help immediately. And the first step of recovery is through a medically guided detox to rid your system of the drug.
Sunrise Detox Cherry Hill gives you treatment to carefully taper you off fentanyl while mitigating withdrawal symptoms. Your life is of great value. Don't put it in danger by continuing to take this drug or attempting to stop by yourself. Instead, contact 856-333-3783 and make the first move toward recovery.
What Are The Signs You Should Enter Fentanyl Detox Near Philadelphia?
Initially developed as an authorized anesthetic in the 1960s, fentanyl is commonly improperly used, illegally produced, and recklessly combined with other substances like cocaine and heroin. In a similar fashion as other opioid painkillers, the euphoric feelings it generates makes it addictive in nature. You may have a dependency if you experience any of the following:
● Withdrawal symptoms arise when not on fentanyl
● Constant impulses to keep taking fentanyl
● Social withdrawal or a shift in social circles
● Acquiring and consuming the drug becomes more essential than meeting everyday obligations
● Intense mood fluctuations and lethargy
● Realizing that you require more fentanyl to attain the feelings of euphoria
Each person's experience with fentanyl addiction will be different. The bottom line is you need to seek help. The power of this substance and the seriousness of withdrawal make halting use on your own very unsafe. Don't take the chance. Talk to the detox specialists at Sunrise Detox Cherry Hill.
What You Should Expect From Fentanyl Detox At Sunrise Detox Cherry Hill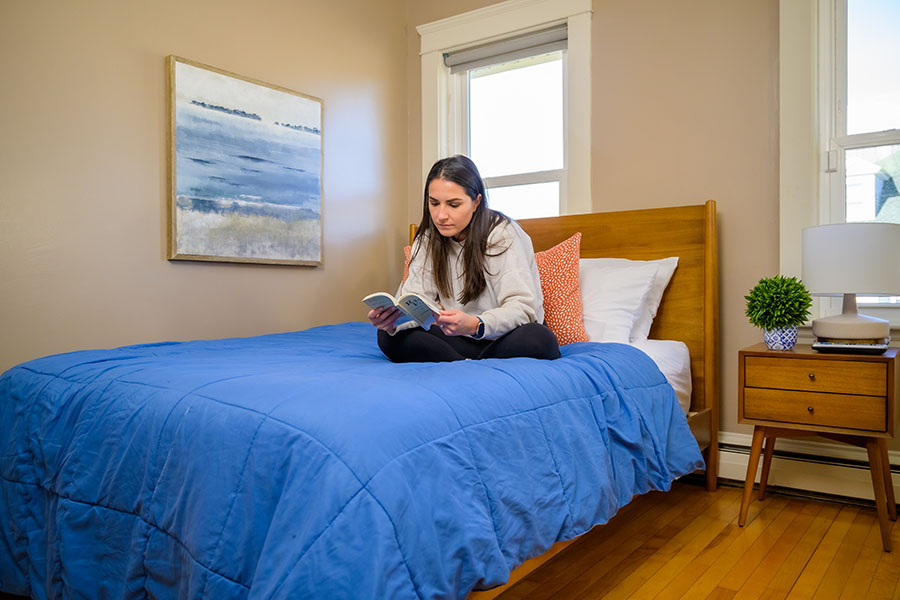 Sunrise allows you to detox with dignity and respect in a judgment-free setting. We are devoted to what we do and follow a personalized approach to substance use care. This begins with an assessment that takes into account the degree of your fentanyl use, medical history, overall health, and if you are taking other drugs. At this point we can personalize a treatment plan.
In conjunction with an individualized plan, we'll supply you with a nicely furnished bedroom to rest in and bolster your strength with healthy meals and snacks. Your comfort is extremely important, and a big part of this is treating withdrawal through medication-assisted treatment and additional means. We are skilled in mitigating all types of withdrawal symptoms, including:
● Muscle or bone aches and pain
● Nausea and vomiting
● Diarrhea
● Insomnia and restlessness
● Cravings
● Raised heart rate and blood pressure
● Mood swings
● Anxiety
● Depression
When you're feeling better, we'll welcome you to engage in personal and group therapy. This is helpful in managing the trauma and triggers of your substance use. We'll then help get you prepared for your next phase of rehab.
How Long Will I Be In Fentanyl Detox?
Because we believe in a tailored approach, the time you spend with us will vary. Generally speaking, individuals will complete fentanyl detox near Philadelphia within a week, although prolonged plans of care are not unusual. The amount of time you are here may be influenced by:
● The level of your fentanyl use
● Secondary addictions to alcohol or other drugs
● Your mental and physical condition
● How responsive you are to treatment
We must ensure you are medically stable and set for the following steps of treatment. Taking that into account, we prioritize aftercare planning, which provides a clear roadmap to your recovery.
How Will Sunrise Protect Me Throughout Fentanyl Detox Near Philadelphia?
Making the decision to get help and beginning your fentanyl detox near Philadelphia is a significant move toward ensuring your safety against this deadly opioid. Once you enter our facility, you'll be kept safe by the additional safety measures we have in place, including:
● 24/7 guidance from licensed medical personnel
● A supervised setting free from outside factors that trigger fentanyl use
● Custom-tailored plans of treatment to match your unique condition
● Aftercare planning to establish a comprehensive blueprint of the steps involved in recovery
● Strict patient privacy rules to keep your personally identifiable information and details of treatment protected
Our well-trained staff will also ensure you don't experience a secondary addiction to medication used in your care. We commonly utilize Suboxone in opioid detox as it is beneficial and not as addictive as other substances. To maintain safety when administering this drug, we follow these guidelines:
● Don't use Suboxone in the early stages of detox to steer clear of precipitated withdrawal
● Administer a trial dose and carefully track your response
● Adjust the dose as needed or switch to alternative treatment methods
● Cautiously taper you off Suboxone
Begin Your Recovery With Fentanyl Detox In Philadelphia
Don't let a fentanyl addiction destroy your life. Find the help you're in need of at our fentanyl detox in Philadelphia. We'll make sure you're safe, address your withdrawal, and get you started on a road to enduring sobriety. Dial 856-333-3783 or use the following form to request assistance. We are here for you 24 hours a day, all year long.