856-333-3783
Vicodin Detox Near Philadelphia
Undergoing detox for hydrocodone is the first step to beating a Vicodin® addiction, and Sunrise Detox Cherry Hill is here for you. Our

medically directed detox near Philadelphia knows how to successfully taper you off the opioid. We'll keep you safe and comfortable as your body clears itself of the substance. All you have to do is reach out to

856-333-3783

to obtain the assistance you require.
Opioid medications like Vicodin are among the most regularly taken drugs worldwide. Regardless of their prevalence, they also bring a high probability of dependency because of the euphoric sensations they generate. If a dependency arises, withdrawal symptoms make ending use challenging and even dangerous. If you are trying to break the habit, you need the help of well-trained medical professionals in a controlled setting.
Do I Need Hydrocodone Detox Near Philadelphia?
Even substances like Vicodin that are ordered by doctors may lead to issues with dependency. If you use Vicodin beyond your prescription or continue to use when your prescription expires, then you might be addicted and be in need of care. You may even become consumed with thoughts of using and hurt relationships in order to keep using on a consistent basis.
You could require hydrocodone detox in Philadelphia if you encounter:
Withdrawal symptoms when trying to stop
Frequent mood swings, confusion, or depression
Withdrawing from family, friends, and activities you once enjoyed
A preoccupation with sustaining your supply of the drug
A growing tolerance where you need more to get the same effects
Difficulty fulfilling responsibilities at the office, home, or school
Even if you don't have all the issues listed, you should get support whenever a Vicodin dependency arises. Withdrawal symptoms may be debilitating and possibly deadly, and the only method to halt use safely is via a medically guided detox.
What Can I Expect From Vicodin Detox At Sunrise?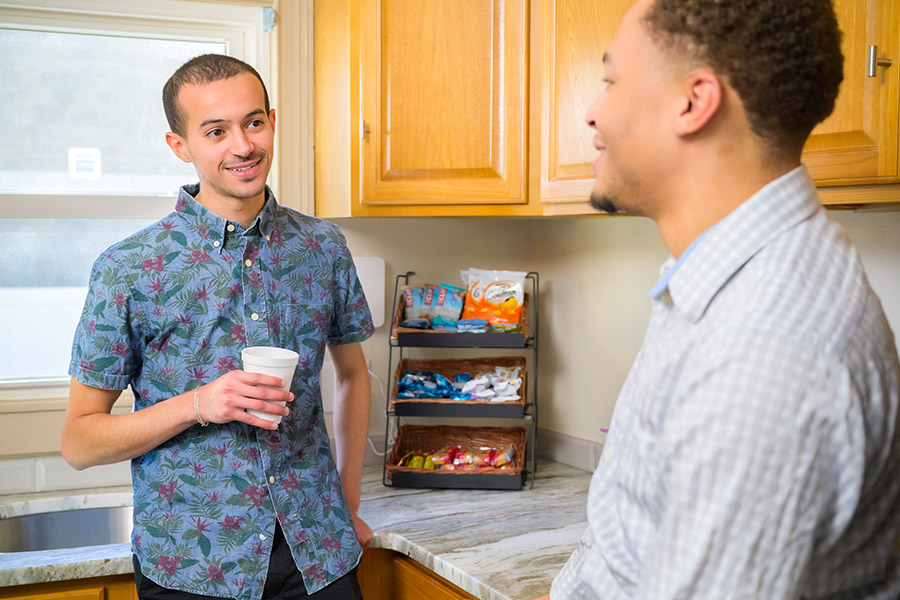 Our skilled medical staff knows there isn't a one-size-fits-all approach to drug detox. You will be supported with empathy and respect in a
caring surrounding
at Sunrise Detox Cherry Hill and we'll begin your personalized treatment with a in-depth evaluation. By doing so, we have the ability to create a specific treatment plan, including any medicine needed to aid you in detoxing in a safe manner.
We are well aware of the physical and mental strain detox gives rise to, which is why our staff tracks your vital signs often and is ready to support you 24/7. We are skilled in mitigating various withdrawal symptoms, such as:
Nausea and vomiting
Anxiety
Depression
Insomnia
Muscle aches and pains
Irritability and confusion
Trembling or tremors
Seizures
We'll rapidly address any concerns that arise. We'll also keep you comfy and taken care of with well-furnished bedrooms, relaxing community lounges, nutritious meals, and 24-hour access to snacks and drinks.
Whenever you're up for it, you'll be encouraged to partake in individual and group therapy sessions. This not only will help you while you're in our facility but also get you ready for inpatient rehab, the following stage of your treatment. When it's time, we'll help you find how you will proceed in your recovery via collaborative aftercare planning.
What Is The Timeframe For Vicodin Detox?
You will stay with us for however long it takes to get you medically stable and prepared to move on in recovery. For the majority of people, admission to Sunrise Detox occurs quickly, and full detox will usually go for up to 10 days. The amount of time you spend here is dependent on the following:
The extent of your Vicodin use including dosage amounts, frequency, and overall duration
Your physical health
How responsive you are to treatment
When you are stable and have an aftercare plan in place, we'll help you switch to a credentialed residential rehab.
How Do We Ensure Your Safety During Vicodin Detox Near Philadelphia?
Your safety is a top priority at our Vicodin detox near Philadelphia. We are meticulous about tracking your condition and know how to manage potentially harmful withdrawal symptoms. Additionally, we'll make sure any medication used to assist you in detoxing from hydrocodone is given in a proper manner to circumvent a secondary dependency.
We protect you with:
Around-the-clock medical care from trained team members
Personalized care plans to accommodate your situation
A structured environment away from external influences that trigger use
Thorough aftercare planning to keep you advancing toward a complete recovery
Inflexible patient privacy protocols to make sure your treatment details and personal information are kept confidential
Suboxone is commonly employed to gradually help you quit opioids as it has a lower likelihood of causing addiction than alternative treatment options. It will help lessen withdrawal symptoms, but it needs to be administered carefully by knowledgeable healthcare personnel. If you are given Suboxone, these steps will be followed:
To circumvent precipitated withdrawal, we'll delay the use of Suboxone until the suitable time
We will carefully monitor your response once administering an initial dose
Adjustments to your dose will be made or other treatment options considered
You'll be gradually weaned off Suboxone
Get Started On Vicodin Detox Near Philadelphia Today
Quit hydrocodone safely by turning to the experts at Sunrise Detox Cherry Hill. Our Vicodin detox in Philadelphia is adept in managing withdrawal and will gradually clear the drug from your body. Dial 856-333-3783 to find detox service now. We reply to inquiries at any hour, every day of the year.
Call 856-333-3783 Today